A Time to Play!
Courts, Parks, Pools, Ponds & Trails Oh My!
Longwood Village has an amazing array of amenities. We have lovely hike/bike trails, an award winning public golf course and re-energizing green space. Two fabulous and fun-filled parks. Four tennis courts. Two covered gazebos for gatherings. A well-stocked pond. And a vibrant community that boasts year round walkers, runners, ballers, bakers, bikers, golfers, readers, bunko babes, play groups, tennis teams, turtle watchers, summer swim team . . . and so much more!!
TownSq is the official HOA contact information system for our community. We ask that residents keep their profile and email updated. To update, login and click on your name in the upper right corner. Select Edit Profile and make appropriate changes.
---
WE SWIM | BEND POOL
At our Longwood Bend location, we offer a pool oriented to athletic swimming, party events, summer swim team, and swim-at-your-own risk (SAYOR) exercise. No lifeguards are provided at this pool location. Parent supervision of registered young swimmers is mandatory at this pool. Pool hours are available far below in slide show, and as a PDF on Resident Resources Page.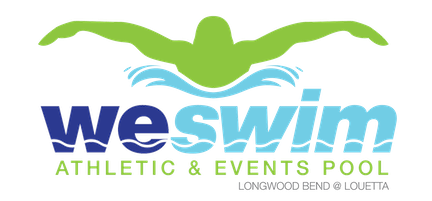 The BEND pool is now open for SAYOR swimming from dawn to dusk, except Mondays for cleaning, when the swim team practices, or when a private party is booked.
If you need a SAYOR card ($25), please request via TownSq. NOTE: Only SAYOR card holders and their registered spouse and own children may use the pool during SAYOR times. No guests allowed during SAYOR swim for any reason.
Pool parties may be booked at the Bend pool, and must include lifeguards, arranged through Lone Star Pool Management Company: tracey@lonestarpoolmanagement.com.
Please login to TownSq to request a SAYOR card.
---
WE SPLASH | TRACE POOL
At our Longwood Trace pool, family fun rules. Our covered kiddie pool, colorful splash pad and refreshing swimming pool provide hours of summer recreation. Why stay at home when you can come swim with friends?! Pool hours are available far below in slide show, and as a PDF on Resident Resources Page. Resources Page.

The TRACE pool is open with lifeguards all days excepts Tuesdays (cleaning day). See Resident Resources for pool schedule.
While our community provides lifeguards at the We Splash | Trace pool, we encourage parents and caregivers to effectively supervise and diligently watch their children while they are at the pool. Water supervision tips here. Swimmer safety is paramount in our neighborhood!!
Please login to TownSq to request an amenity card.
---
STINGRAYS
During the spring and summer, you will find many of our children outfitted in caps, goggles, giggles and speedos, joyfully swimming for the Spring-Cypress Stingrays. Here is the 2020 schedule of NWAL events:
May 9th Time Trials
May 16th NWAL 1st Dual Meet
May 23rd NWAL 2nd Dual Meet
May 30th NWAL 3rd Dual Meet
June 6th NWAL 4th Dual Meet
June 13th NWAL 5th Dual Meet
June 20th Playoff Meets
June 26-28 End of Season Invitationals

---
TRAILS, PONDS & GAZEBOS
Longwood residents enjoy a naturally occurring pond located at the corner of Louetta and Longwood Trace. The pond is surrounded by a walking/jogging trail and a wooden bridge. The pond features a variety of wildlife, including turtles, fish, bullfrogs, cranes and an occasional duck. Fishing is allowed on a "catch-and-release" basis only. So pack a lunch and your fishing pole . . . and come enjoy the wildlife that call Longwood home.
We also have two covered gazebos in our community. Both locations are a perfect spot for morning coffee, picnic lunches, reading, sunset sips or family photos.
Enjoy our various trails through the neighborhood. Nothing could be nicer than to run or walk along our beautiful trails that meander throughout Longwood. The beautiful landscapes and trees make for a relaxing, enjoyable retreat from our hectic lives.
---
TENNIS COURTS
With four courts (two courts at each park location), Longwood enjoys an active tennis community with league play in HLTA, USTA, HTA, NWTL, TJL as well as social play. New residents can contact the leagues listed above if they are interested in finding a team to join.
All requests to add any new teams need to be sent to Cindy Schluter, Tennis Court Coordinator, at cindyhoaemail@gmail.com.
Courts can be reserved for league play or recreational play, but league play takes priority. All scheduled league play will be posted at both courts.
Schedules can be seen online under amenities in the TownSq app.

---
ABOUT OUR AMENITY CARDS
Longwood has several "controlled" amenities: the swimming pools and the tennis courts. Access to these are provided by an amenity card. At the entrance to the WE SPLASH | TRACE pool and the tennis courts, there is a "card reader", which provides controlled, audited access. The first two access cards are issued at no charge to each residential address. Should you require replacements or a third card, they are available for $10.00 per additional card. An Amenity Registration and Indemnification Form is available in the resident portal. It requires the resident to complete and assert that they have read the associated Pool and Tennis Court Rules included with he registration form. As outlined above, access to the SAYOR pool requires the submission of registration and release paperwork and a card fee, prior to obtaining an access card.
---
LONGWOOD GOLF CLUB
Many area residents enjoy the neighborhood fairways which are carved out of dense forest, making each hole secluded, distinctive and memorable. Its small, well-bunkered greens were crafted with handicap players in mind. The course's four sets of tees and generous entrances to greens provide players of all skill levels with an enjoyable challenge. Longwood Golf Club.
The Golf Club is offering six summer juniors golf camps. Click here for more information.
---
GUIDE TO LONGWOOD AREA COUNTY PARKS/REC
Bud Hadfield Park - 12405 Telge Rd, 77429
Faulkey Gully Hike and Bike Trail (see precinct 4 website for trail maps) www.hcp4.net
Cypress Park-12925 N. Eldridge Pkwy, 77429
Cypress Top Historic Park – 26026 Hempstead Rd, 77429
Kickerillo-Mischer Preserve – 20215 Chasewood Park Drive, 77070
Lakewood Crossing Park – 11502 Cypresswood Drive, 77070
Little Cypress Creek Preserve – Telge Rd & Spring Cypress Rd, 77429
Matzke Park – 13110 Jones Road, 77070
Richard D Taylor Park – 11606 Cypresswood Drive, 77070
Telge Park – 12400 Pleasant Grove Rd, 77429
Link to guide on greater Cypress area parks.